Future Ghosts are one of the many here in the city who are mining the sounds of MBV and Ride, but by blending their influences with metallic crunch, the band have stumbled upon a sound that's uniquely their own. In this week's 58th episode of Notes and Bolts, we hang out with brothers Sean and Tom Whitaker and talk about sibling bonds, the records that turned their ears and the process that went into recording their new record Light On Canvas.
Download from itunes by clicking
here
.
More about these tracks over at
Chicago Mixtape
!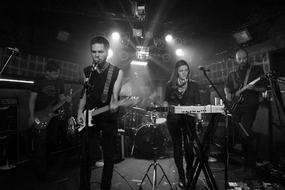 Complete Playlist:
Future Ghosts - The Drift
Sissy Mena - Fancy Films
Future Ghosts - Radiatorsong
Curve - Horror Head
Future Ghosts - Time
Kam Kama - San Miguel
Verma - White Heat
Future Ghosts - After The Party
Panda Riot - 16 Seconds
Future Ghosts - In Another Place
Warpaint - Krimson
My Gold Mask - Bobbi
Future Ghosts - Invisible Elephants