Astrobrite, one of several projects from the ever prolific Scott Cortez, has been generating quite the buzz as of late. With the re-release of their Crush LP last year by Logan Square power house BLVD Records along with a new LP now out, All The Stars Will Fall, Cortez has been on a bit of a winning streak. This week, in episode 056 of Notes and Bolts, Scott hangs out and talks about shoegaze music, obvious comparisons that are perhaps a bit unwarranted as well as his formative years making weirdo sounds in the band room after school as a kid.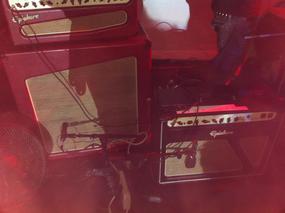 Download from itunes by clicking
here
.
More about these tracks over at
Chicago Mixtape
!
Complete Playlist:
Jessica Bailiff - Cave In
Noveller - Almost Alright
Grouper - Alien Observer
Simon Scott - She Came From The Sea
Six String Malfunction - Next Time Forever
Alastor - Untitled One
I Break Horses - Hearts
Pillowdriver - One
Casino Vs. Japan - Vessels That Float Out of Metals
Darkered - She Likes Stars
Jefre Cantu-Ledesma - Stained Glass Body
Windy and Carl - Snow Covers Everything
Feet of Clay - Apple In The Mouth Medley