Hey, look! It's mid-week, and yr still alive! Keep moving towards the weekend while tuning in to episode 062 of Notes and Bolts, where AJ Cesena and Sophie Leigh of shoegazers Videotape hang out and talk about how they met in the band's early days, as well as giving us a peak into the band's new album, This Is Disconnect, which they've recently released independently on CD - look out for the cassette version to drop in February courtesy of Notes and Bolts!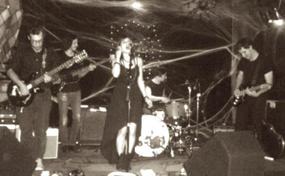 Download from itunes by clicking
here
.
More about these tracks over at
Chicago Mixtape
!
Tracklist:
Slowdive - Souvlaki Space Station
Videotape - Between Me and You
Videotape - Form
Nirvana - Frances Farmer Will Have Her Revenge On Seattle
Bikini Kill - Statement of Vindication
Videotape - No One
Bjork - Bachelorette
Videotape - Pulling Tape
Blonde Redhead - In Particular