Gabe Holcombe, of Lillerne Tapes, has been a busy dude since the last time we had him on the show last Summer, and here in episode 095 of Notes and Bolts, Gabe is back with a fresh batch of jams including new stuff by Gel Set and Free Weed - both of which have already slid into our best of '13 lists with 10 months in the year left to go!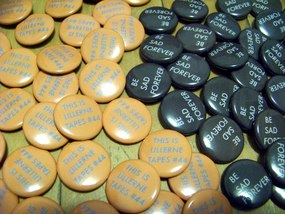 Download from itunes by clicking
here
.
Complete Playlist:
Katrina Stoneheart
Gel Set: Stuck On You
Free Weed: Light The Night
Sex Ed: Come Here
Golden Donna: Circle
Kevin Greenspon: Empty Minutes
Former Selves: This Is No Luv Song
Trudgers: Dead Geranium
Jen Paul/No Lakes: Christmas 82
Katrina Stonehart, aka Drew M. Gibson of Baby Birds Don't Drink Milk. One of my best friends and true musical heroes. This tape is already sold out, but it's easily one of the most dynamic and beautiful solo bedroom recordings I've ever heard.
Gel Set: Stuck On You - One of my favorite tracks from Lulu's cassette on Lillerne, from late last year. It's such a great tape. It sounds like it was meant to be on cassette, which is what I always strive for, but rarely achieve.
Free Weed: Light The Night - Rikky from The Memories, White Fang, Gnar Tapes. A true DIY champion and certified lifer. He and his friends are doing something very important in Portland. He lives the life, and is constantly producing and supporting other artists with Gnar Tapes.
Sex Ed: Come Here - Two rad sisters rap about safe sex, being sex-positive, kinks, and STI prevention. I think this is a revolutionary cassette. As educational as it is perfect to put on at a dance party. Production by Marvin from Xina Xurner and Javelin.
Golden Donna: Circle - Joel from Madison is killing it lately, fresh off an LP on Not Not Fun. He's going to have a split coming out with Kevin Greenspon this spring on Lillerne. I finally got to see him play live at the Dustbowl a few months ago, and he slayed. Live analog dance mayhem.
Kevin Greenspon: Empty Minutes - One of my oldest music friends, and somebody who has helped me evolve so much by watching his music career and his label, Bridgetown Records. He's got it down, and his songs are truly moving and emotional masterpieces.
Former Selves: This Is No Luv Song - Featured on last year's Lillerne Compilation #2, Paul Skomsvold's Former Selves moniker is one of my favorite artists in the past couple of years. Insanely beautiful ambient and synth tapes that grip you instantly. This is an example of his bedroom pop side, and I think this song has as much power as any of his more refined work.
Trudgers: Dead Geranium - Trudgers is my friend Brent Mitzner from Murrieta, CA. He writes amazing songs and performs them solo or with other likeminded socal kids. It's such a cool scene. He now performs as Torn Humorist and continues to make innovative and above all honest and human music.
Jen Paul/No Lakes: Christmas 82 - This is a track from an old split cassette with my project, Vehicle Blues. Jen has been a kind of musical pen pal of mine, and I've enjoyed her songs and guitar work for a long time. The tapes I have of hers have been longtime life soundtracks for me, and it was an honor to do a split single in 2010.