It's mid week and here at N+B HQ, in episode 060, we're hanging out with Paul Nixon and Gina Eccher of The Blue Ribbon Glee Club, who've brought along a rad playlist comprising old punk and new wave classics as well as some of their own tunes including a meow-riffic cover of the Dead Kennedys' 'California Uber Alles! Listen in and hear the pair talk about the inner workings of their dozens strong group of a capella fanatics!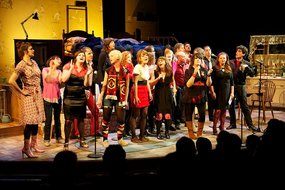 Download from itunes by clicking
here
.
More about these tracks over at
Chicago Mixtape
!
Complete Playlist:
The Blue Ribbon Glee Club - Meow (California Uber Alles)
Klark Kent: Don't Care
Sham 69: If The Kids Are United
Galatic Inmate: Karate
The Smoke: My Friend Jack
Mazes/BRGC: Peace Can Do No Wrong
Naked Raygun: Treason
BRGC: Come Out Fighting
The Clean: Getting Older