Part 4 in this week's Mon-Fri daily episode marathon finds us hanging out with husband/wife duo, Eric Bessel, and Laura Mariposa, of Lore City. Playing dark and moody compositions that balance minimalist instrumentation to create larger than life caverns of sound, the band rest comfortably amongst the ranks of Swans and Zola Jesus. Recently transplanted from far off Brooklyn, Eric and Laura are poised to make a name for themselves here in Chicago. Listen in and check them out!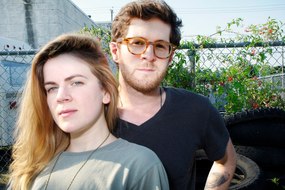 Download from itunes by clicking
here
.
More about these tracks over at
Chicago Mixtape
!
Complete Playlist:
Scout Niblett - Where Are You?
Sir Richard Bishop - Dhumavati
The Iceburn Collective - Centre
Lore City - Treasure
Pleasure City - Opalescence
Lore City - Unknown
Lower Dens - Plastic and Powder
Skin - 1,000 Years
Swans - The Seer Returns